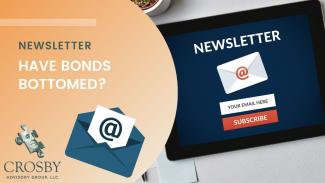 Have Bonds Bottomed?
Over the past 25 years, we have experienced six (6) negative years for the stock market. Historically, as long-term investors, the odds of growth are overwhelmingly in our favor. 2022 has proven to be a bit unique, at least so far, in that over that stretch of time there was never a single year in which stocks, bonds and real estate (REITs) were all three negative. However, so far in 2022, all three are lower than they were at the beginning of this year.
However, it appears that bonds may be finding a bottom. iShares 20+ Year Treasury ETF (TLT) was down about 20% month ago but has enjoyed some appreciation since. Intermediate bonds (BND) and short duration bonds (BBBIX) have followed similar patterns, all progressing higher in the past 30 days.
A year-to-date chart of the iShares 20+ Year Treasury ETF below will show that it began declining on January 2, yet the first interest rate increase didn't occur until March 16th. Why? 
(Graph: TLT: iShares 20+ Year Treasury Bonds year to date performance provided by Yahoo Finance)
Investment markets are forward looking instruments, meaning some analysts believe the current price of the bonds already reflect all expected interest rate increases through mid 2023. If this is the case, bonds should display greater stability than they have over the past six (6) months, and with long duration interest yields over 3%, long-duration bonds have become attractive to many investors. Bond funds have enjoyed significant inflows of new investor money over the past several weeks. 
What could alter this hypothesis is if inflation does not begin to normalize and the Federal Reserve is forced to increase rates faster and longer than what is already priced in. For now, there seems to be a margin of safety priced in as well as potential opportunity for bonds if the Federal Reserve progresses as expected. 
Health & Wealth
In our latest Health & Wealth episode Macy discussed tips for protecting yourself from UV rays and I discussed the perils of rushing to protect your wealth against long-term care costs. Did you know that August is national "Make a Will Month?"  Estate planning is a crucial part of your plan. If you don't have a Will and have dependents, this is a great month to get it done. You can watch our recent episode here.
Dynamic Growth
Our podcast had over 2,000 downloads in July! We are excited many of you listen to the podcast regularly. Please let us know if you think there is anything we can do to improve the show. In a recent episode I reveal a few stocks that have caught my eye from a valuation standpoint and Derek discussed interest rates, the Federal Reserve and what it may mean for the markets going forward. You can listen to it and read a quick summary on our website. 
Making You Sound Good. That's Kind of Our Thing.
CAG Marketing can also help you with content! Whether you are looking to update the copy on your website to reach your target audience, author a series of articles designed to present you as an expert in your field, or just need help with content to boost your Google search, CAG Marketing has your back. Carly Snyder can help you put your best foot forward with every client touch. You can reach her at info@marketingcag.com or her direct email csnyder@crosbyadvisory.com.
Has your Home's Coverage Kept Pace with Inflation? 
We always recommend our clients insure their homes and rental properties for replacement cost. Every homeowner's policy has an inflation guard built into it that is designed to make sure the "Coverage A" for the dwelling keeps pace with inflation. However, these inflation guards were not designed to keep pace with a 9% + inflation rate, which is where we are now.
Anyone who has had remodeling done in the past year knows the cost of labor and supplies has risen dramatically. We encourage you to contact our office to review your home's coverage limits. We will provide you with a free replacement cost estimator based on your home's square footage, style and specific details. Although we recommend that you review your coverages with us annually, you do not need to wait until your renewal to do so. Contact one of our agents today to review your home's protection.
Disclaimer: This newsletter is for informational purposes only, represents the opinions of Crosby Advisory Group and is not intended to replace individual consultation.  Investing involves risk including potential loss of principal. Consider all risks and fees before investing. Nate Crosby and Crosby Advisory Group have ownership interest in CAG Marketing and NMD Insurance.
Follow us on Social Media
Facebook: Crosby Advisory Facebook         Instagram: Crosby Advisory Instagram      YouTube: Crosby Advisory YouTube