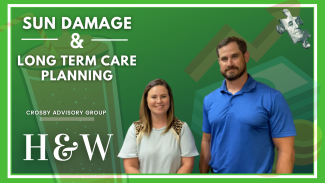 H&W Sun Damage & Long-Term Care Planning
Safe Sun Exposure 
I think by now we all know that while we love the sunshine, there are also risks associated with too much UV exposure! UV rays come primarily from sun radiation and other artificial sources, like tanning beds. UV rays can be harmful to your skin for many reasons, including things like sunburn and wrinkles. These rays can also damage your eyes leading to things like cataracts, corneal damage, and macular degeneration. Extreme UV ray exposure can even lead to skin cancer. 
Here are some tips for summer safety:
Always wear sunscreen at 15 SPF or above (we use higher)  
Wear your UVA / UVB blocking sunglasses and try not to look directly at the sun 
UV protective clothing like shirt and hats 
Avoid tanning beds – always! As an alternative, try a spray tan with GLOW x MaleryHelayne 
You may be asking yourself about a previous H&W episode about the importance of vitamin D. Remember, by taking safety precautions and applying sunscreen, you can still spend your 15-20 minutes to get an adequate amount of vitamin D. 
Creating a Long-Term Care Plan
Preparing for long-term care is often something we overlook and find ourselves scrambling to cover. We often have clients that come to us looking for advice in this area – here are some tips to consider: 
A long-term care insurance policy can help with the cost burden associated with a skilled nursing facility 
Self-insure by allocating an amount that you'll use to pay for care
Legal instruments like trusts 
Many people will also try to move assets out of their name, which is a good idea, but beware of the 5-year look-back. 
Need help with estate planning? Contact us, we have local resources that can help you! 
Psst: Can you spot the hidden Crosby Advisory Group stemless wine glass in this episode?!