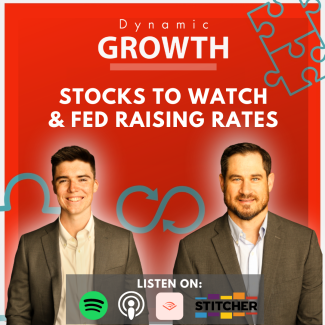 Stocks to watch and FED Raising Rates
What we're watching
Recession or not, we haven't stopped watching the market and evaluating stock performance. In today's podcast we share with listeners a few of the companies we've been watching. Market volatility can tell you a lot about business health – here are some stocks with valuations that caught Nate's eye: 
BHP Group – a mining company with a solid dividend of 8.8%  
Kroger – a grocery store chain with an operating margin of 3% that has been able to weather the storm better than many retailers (including Walmart) 
Nucor – a steel producer with 65% year over year (YoY) revenue growth 
Pepsi – their food and beverage product performance is out pacing the S&P 500 thus far in 2022 
Qualcomm – this chip manufacturer has a PE of 14 and is taking advantage of the Internet of Things by providing chips that connect to the internet and make everyday products "smart" 
Starwood Properties – is delivering an 8.5% dividend to its commercial real estate loan shareholders 
The dreaded recession 
Recent discussions around the pending recession have many people scratching their heads. Historically the definition of a recession is two consecutive quarters of contracting GDP but after the FED announced its second quarter of decline, they moved the cheese. This begs the question of if we really need the official label or not? Maybe not but some may argue that rhetoric from the FED matters more than their actions. After all, people are making financial decisions based on what the FED is telling us. 
Consider this as you evaluate the status of our economy and the potential of a recession. The current market cycle is driving behavior within the economy, business performance and consumer spend. While our elected officials may or may not call our current state a recession, we suggest you watch for real effects on people like job stability and unemployment numbers. 
In closing, we urge you not to fear a recession! Take this opportunity to know where we are in the cycle and invest accordingly. 
Please note: This content is not a direct recommendation for investment. Investing involves risk including the potential loss of principal. Not all investments are suitable for all people. Crosby Advisory Group, LLC is a registered investment advisor in Ohio, Florida, and Texas.