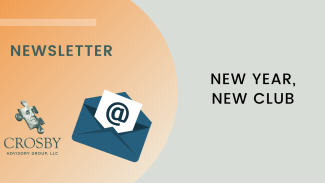 The Real Estate Sector
Did you know that if you are a Crosby Advisory Group investment client, chances are you have at least some exposure to companies that own cell phone towers, nursing homes, office buildings, data centers, apartment buildings and a wide variety of other real estate exposure?  Real estate presently makes up between 3 to 8% of most of our investment models. In a recent podcast, Derek and Nate took deep dive into the Real Estate sector.  Learn why publicly traded real estate companies pay such high dividends.  You can listen to it here!
New Year, New Club
In our podcast on the real estate sector, Derek mentioned that in 2021, he felt like we were beating people over the head with talk about inflation. We had added commodities to our portfolios in anticipation of inflation resulting from government monetary stimulus.  I wish I could say that we got it wrong. This week the CPI posted a 7.5% inflation rate. For those of you who are do-it-yourselfers, the inflation train has likely not left the station. Pepsi just reported positive earnings but, in their earnings, call they stated that consumers could see as much as a 10% increase on some products. Companies across the board are increasing prices. As a result, we have boosted positions in commodities and gold in most of our portfolios, as we do not believe inflation will have reigned in soon.   So far, most companies that have reported earnings have met or have beaten expectations.  This is good news.  The headwinds the stock market faces right now is a combination of future interest rate hikes, Federal Reserve tapering and the Russian/Ukraine situation isn't helping. As a student of investing, I know that many of these headwinds tend to be transitory (sorry, I couldn't help myself).  What I mean by that is interest rates rise and fall.  Historically, inflation has risen and fallen.  Geopolitical instability comes and goes. These things tend to pass. During times of volatility, the savvy investor goes back to the basics, and that is diversification.  I told Derek that is the new club we are beating people over the head with this year: diversification.  In my opinion, the modern portfolio must go beyond bonds and stocks.  Those are just two asset classes.  A carpenter doesn't go to work with only two tools. I want to own at least 5 if not 6 asset classes: stocks, bonds, precious metals, commodities, real estate, and even some cash. I believe we need 5 to 6 non-correlated asset classes to truly be diversified.  This does not mean that our portfolio does not fluctuate, but it does increase our ability to weather volatile times with a bit more comfort than an all-stock or stock/bond portfolio.  We spend countless hours back-testing and reviewing different combinations of investments.  I believe diversification will be the key to successfully navigating the first half of 2022.
Put your best foot forward      Written by Carly Snyder, CAG Marketing
Coming off our last couple of podcasts looking at the consumer staples & communications sectors got me thinking about big brands. iPhone or Samsung? Coke or Pepsi? Netflix or (dare I say) Cable? We all have brand preferences and it's likely they started long ago and rarely change over time. I recently moved from Cleveland to St. Louis and re-establishing my go-to brands particularly in the grocery store often makes me feel paralyzed with indecision (which one is most like Heinen's?!). I'm not alone on this. Brands give personality and in turn we connect, we relate, we become loyal. Depending on your target audience, your brand can be anything from trustworthy to fun to innovative or anything in between.
Getting your message right is vital. Whether it's your personal brand or the company you work for – branding connects something (you, your business, your product) with features, ideas, feelings that make it recognizable.
Here are a few tips for evaluating your brand (or if you find yourself watching the Super Bowl on Sunday - try applying these questions to your favorite commercial):
Who are you trying to attract?
What do you want your brand to stand for? What beliefs and values guide you / your work?
What words do you not want to be associated with?
How are you different from other people/companies?
Where do you want to be in 12 months? 3 years? How have you changed from today?
If you're new to branding or ready for a refresh – do yourself a favor and be authentic. We are living in an experience economy where bad news travels fast and expectations continue to rise. The sooner you establish your fan base, the better! 
Carly recently was a guest on the Dynamic Growth Podcast in which Derek and Nate picked her brain on branding and marketing.  You can listen to it here.  If she sounds like she was the smartest person on the podcast by far, it's because she was 
.
     Questions about branding or other aspects of marketing for your business? Ask the expert by reaching Carly here.
Supply chain causes some insurance companies to adjust to help insureds.
It seems every week we get a notice from insurance companies letting us know repair of damaged vehicles is taking longer than in the past due to lack of availability of parts.  My wife recently had a windshield replaced, and normally our insurance company pays for someone to come to our house to do that, however, the glass repair company can't find mobile technicians to perform the work. Owners of damaged vehicles often find that it takes weeks for auto body shops to receive the parts necessary to repair their vehicles.   A standard auto policy with rental reimbursement coverage provides 30 days of coverage for a rental car.   With parts often on backorder, this may not be enough time to repair a damaged vehicle.  To help consumers, some insurance companies, like Erie Insurance, are offering qualifying insureds the possibility to extend rental car coverage if they are able to select a rental car that is below the maximum limit their policy provides.  If you are unsure what type of coverage your auto policy provides, contact our insurance pro Julie Maglott at our office for a review.  419.496.0770 Email:julie@nmdinsurance.com.  Read more about Julie. 
Weekly Wisdom
"All problems, personal, national or combat become smaller if you don't dodge them"  -Admiral "Bull" Halsey
In our Health & Wealth video this week, Macy talked about "eating the frog".  In other words, we take the most difficult or important problem and make sure it is the first thing we tackle each day.  Eating the frog in the morning ensures the rest of our day is a success.
You can watch more Health & Wealth videos on our Facebook page or you can visit our YouTube channel here.
Would You Sell Your House in Crypto?        Written by Derek Ballinger
 If you read that and immediately said YES, then read no further and click here. I imagine that isn't many people, if you listen to the podcast you know I'm a big believer in crypto and even I would have my hesitation about selling a house for crypto. There have been people who have taken crypto as payment for real estate. The CEO of Binance, the world's largest crypto exchange, sold his apartment for 1500 bitcoin in 2014 which wouldn't have been very impressive at the time. The largest real estate deal paid in crypto was a penthouse in Miami that sold for 22.5M USD paid in bitcoin. And this week a house in Florida sold as an NFT for 210 ETH ($653,000 USD).
 To give a brief overview, an NFT (non-fungible token) is proof of ownership of something that is digital. In the physical space, you can determine ownership by contracts, a deed to a house, notaries will verify signatures and there is an exclusion for everybody else because you can prove ownership. To prove ownership, you are using the faith, legitimacy, and security of the legal system to enforce property rights. In the digital space, you are using the faith, legitimacy, and security of a blockchain to prove ownership. This is overly simplistic, there are many resources to further explain NFTs. 
 2 Resources: Simply Explained: What is an NFT
                       Dynamic Growth: Explaining NFTs
 Turning something into an NFT whether that be something physical or digital into an NFT is a process called minting where the item is assigned a signature which is a string of characters that can be traded on the blockchain that can never be changed or altered. If person A owns an NFT and sells it to person B on the Ethereum blockchain, there is a record set in stone that can't be changed so person A can't say it they never sold it, and person C can't come along and say they own it because there is a clear record that person A transferred it to person B at a specific date and time.
 Today, 02/11/2022 the deal will finally close for somebody to sell their actual residence as an NFT. A 2164 sq. ft house in Gulfport, FL sold as an NFT for 210 ETH or $653,000. The seller minted and sold the deed to the house as an NFT. 
 It's my personal belief that most of the NFTs you see today aren't actually worth their ticket price of hundreds of thousands to $92 million, but the technology itself has really compelling use cases that will without a doubt be prominent in the coming years. Real estate is just one use case, and we will likely see more of these deals soon. It could be a reality that selling a deed as an NFT will allow you to sell partial equity of the house without going through credit checks and dealing with banks and having instant access to funds. You could raise money through Defi (decentralized finance) where a pool of investors can lend funds at competitive rates without the use of banks all verified by blockchain. Investors would theoretically have much more liquidity with their properties and homeowners could utilize and sell equity more efficiently rather than only being able to do so with HELOC or sale of the property.
Disclaimer: I own Ethereum and other cryptocurrencies, it's a very volatile space that has a lot of risks and unknowns about how/if these technologies will be used.  This article is not a recommendation for you to buy cryptocurrency or an NFT.
Crosby Advisory Group, LLC is a registered investment advisor.  This newsletter is for informational purposes and does not replace one on one consultation.  Do not buy or sell securities mentioned in this newsletter without understanding if they are suitable for you.  Investing involves risk including the potential loss of principal.  CAG employees may own investments mentioned in this newsletter. This newsletter represents the opinions of Crosby Advisory Group.  Insurance products are sold and serviced through NMD Insurance.