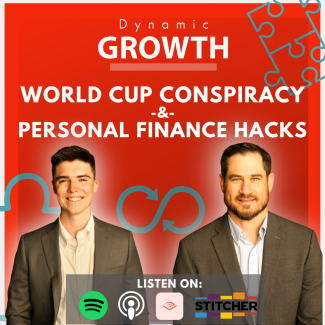 World cup conspiracy & personal finance hacks
Who else can't get enough of the World Cup? Behind all the corner kicks, super fans, and game-winning moments, there is perhaps a surprising number of 'other' things going on before and during the event. You'll have to listen to the podcast for a full debrief but here are a few of the topics Nate and Derek are slide-tackling (see what we did there?) into:
Human rights 
New stadiums & the 6,000 migrant workers that have died building them 
Dress codes 
Photos (or lack thereof) 
No alcohol in the stands (think game attendees are upset? Imagine being Budweiser who paid $75M to be a sponsor and finds out a couple of weeks before the event that they wouldn't be able to sell any beer) 
Multiple bribes exceeding 7 figures
Personal finance hacks
To bulletproof your chances of achieving financial freedom, remember to keep paying yourself even when loans are paid off. Think about a car loan, school loan, or any shorter time horizon payments being made – after the car title is signed over to you, you still have the money for the loan. If you reallocated that payment to your personal finance account, you're setting yourself up for new investment opportunities that just may pay for your next car outright. 
We talk a lot about savings rates with our clients because – let's face it – it's important. Savings rates play right into the logic of continuing to pay yourself after a loan is paid off. The higher your savings rate, the better your chances of a financially worry-free retirement. Think about this example – when you are working, saving 25% of your income means you are only living off 75%. The delta between what you will have saved and what you need as living expenses when you retire will be much smaller as a result. 
No matter your situation, financial freedom comes from planning, saving, and not spending beyond your means. Easy, right?! 
Could 2023 bring a new era for Meta Platforms
Speaking of retirement, Derek discusses an unconfirmed news story that Mark Zuckerberg may resign as CEO of Meta Platforms sometime next year. Besides Derek's confidence being majorly boosted if he scooped this story, we can't help but debate what this would mean for the company's stock. Good or bad, we'll just have to wait and see! 
Please note: This content is not a direct recommendation for investment. Investing involves risk including the potential loss of principal. Not all investments are suitable for all people. Crosby Advisory Group, LLC is a registered investment advisor in Ohio, Florida, and Texas.