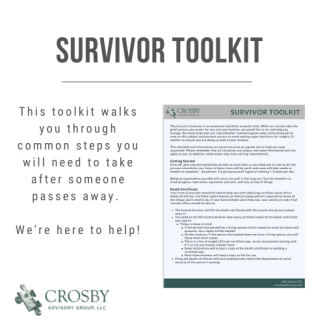 When You Lose Someone You Love
The loss of a loved one is an emotional and often stressful time. While we cannot make the grief process any easier for you and your families, we would like to try and help you manage the many tasks that are required after someone passes away. Everything we've read on this subject advises that you try to avoid making major decisions for roughly 12 months to ensure you are doing so with a clear mindset. This checklist and information are meant to serve as a guide and to help you keep organized. Please remember that all situations are unique, and some information will not apply to you. In addition, some states may have varying requirements. 
Getting Started 
First off, give yourself permission to take as much time as you need and try not to let this process overwhelm you. Some of these items will be quick and some will take weeks or months to complete – be patient. Try giving yourself a goal of tackling 1-2 tasks per day. Being as organized as possible will serve you well in the long run! Use the checklist to track progress, take notes, log emails and calls, and stay on top of things. 
A Checklist & Key Steps for Closing an Estate 
Get organized - it will help, trust us 
Copies of the Death Certificate - certified copies will be required for some of the list below, so we recommend getting a handful of copies to get you started 
Contact the Department of Social Security and the Department of Veterans Affairs to determine benefits and payments that you owe / are owed
Locate the will / estate plan - contact your lawyer if you need help 
Contact employers - past and present 
Update all financial information with banks, investment accounts, retirement accounts, etc. 
Update all insurance information - life, health, car and home 
Notify credit bureaus - protect your loved one from identity fraud by making sure no new credit is issued in their name 
Home and vehicles - you don't need to decide the path forward right away, but you do need to keep up with payments and routine maintenance 
Cancel services that are no longer needed - email, social media, subscriptions, etc. 
Our toolkit is designed to help survivors understand, manage and complete the many tasks that follow someone's death. Use the checklist to keep track of specific details – dates, who you spoke with, next steps, etc. – as you help your loved one to close their estate. Get started by downloading the pdf today. 
This is an emotional time for you and your loved ones so please surround yourself with the help of friends, family and / or a licensed professional. If you need any support getting through these steps, feel free to reach out to us as we are more than happy to help!