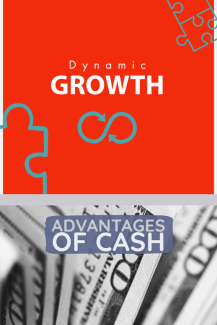 War on Cash? Use it to Your Advantage
Companies like Mastercard (MA) Paypal (PYPL) and Visa (V) are part of the "War on Cash".  Their services have made it possible for consumer to live life without carrying cash.  Let's face it, carrying cash can be cumbersome.  Nobody wants a pocket full of coins.  Cash has been replaced by plastic and payment from our mobile devices. Many credit cards even incentivize the use of credit over cash by giving away bonuses, cash back and travel miles for purchases.  
As consumers, we love cashless purchases, and many of us have the debt to prove it. The great thing about cashless purchases is they are convenient. If you are in debt, the bad thing about cashless purchases is they are convenient.  In a recent episode of "Dynamic Growth", Nate Crosby and Macy Vogel discuss list 4 advantages to bringing cash back into your spending plan.  Among them are the ability to hide purchases from marketers, leverage for obtaining lower costs on the services we purchase and decrease in our ability to overspend.  However, one of the most powerful advantages to using cash is the ability to boost your investment plan. What?  
Not as hard as it sounds
Adding cash back into your spending plan doesn't require you to drive to your utility companies to pay bills. Instead we are going to figure out what a healthy budget is for you regarding discretionary spending each month.  Discretionary spending includes any purchases that are not necessary for basic living needs.  This includes eating out, fun purchases, gifts and entertainment.  Once we determine what that budget is, we set it aside in cash at the beginning of each month.  We then use the cash for every discretionary purchase.  Once we run out of cash, that's it! No more. We should be fine because all of our basic living needs are already included in our budget. However, this process typically allows consumers to track their purchases better and even think twice about discretionary purchases. Soon, they find there is extra cash left over at the end of each month.  That extra cash gets rerouted to either paying down debt, or funneled into investment accounts that are already being funded through a basic budget.  If you want to enhance your financial success, one of the easiest ways to do that is to bring back cash. 
Listen to the fully episode of Dynamic Growth here http://traffic.libsyn.com/dynamicgrowth/Dynamic_Growth_Cash.mp3
Disclaimer
Crosby Advisory Group, LLC is a Registered Investment advisor in the state of Ohio.  At any time, you may request a copy of our Form ADV 2A and Form ADV 2B, which provides information about the qualifications and business practices of Crosby Advisory Group, LLC and Nate Crosby.  This article is for information purposes only and should not be taken as direct investment advice for you without a consultation. Investing involves risk and you should carefully consider all risks and expenses before making an investment. There were several stocks mentioned in this article, this article is not a recommendation for you to purchase shares of those stocks. Crosby Advisory Group, LLC is also a licensed insurance advisor.  Insurance products are serviced through Crosby Advisory Group, LLC.  If you have any questions you can send us a comment by visiting our website at crosbyadvisory.com. Our office number is 419.496.0770