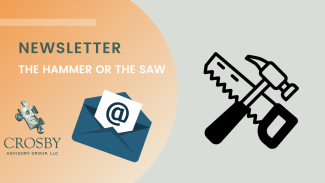 Something new this week!  I am writing this newsletter before the market opens on Friday. Typically, Derek and I wait until after the market closes for release to make sure we do not miss any exciting news.  However, I will be helping Carly Snyder pack for a move, so I will be monitoring the day's action remotely.  Derek is likely just arriving in Colorado as I type. We wish them both safe travels.
Streamers and Carpenters
      Netflix's (NFLX) stock price has grown by over 300% in the past five years!  One might argue that Netflix's growth explosion was a result of the Covid shelter in place mandates.  They would be partly right.  There is no doubt that Covid restrictions led to an acceleration of new subscribers, but Netflix has proven that it doesn't need a virus to grow – with 9% user growth last quarter alone.
      However, since November, Netflix has fallen by over 20%.  The relative strength index (RSI) is below 20 which indicates that it is oversold.  Considering the environment, we wouldn't be surprised to see Netflix continue to fall for the short term.  As predicted in last week's newsletter, we believe growth stocks have a more difficult climb in the early part of 2022 than value stocks because of the anticipated rate increases that lie ahead.  Interest rate increases can cut into the profit margins of growth stocks that have used low-cost money to invest in their business. Remember value stocks are priced lower compared to their earnings and tend to pay dividends.  Value stocks often become more attractive to seesaw investors that teeter back and forth between the stock class of the moment if they feel growth stocks have hit a temporary wall.
     However, in the long run, which is the race we run, we pay more attention to the quality of a company and not the label of its stock. When I think of Netflix, I think of streaming.  When I think of streaming, I think of other streamers like Disney, Amazon, and Apple-all amazing companies that I personally own, not because they are growth companies, but because they continue to innovate as the best in their fields.
     The NASDAQ 100 , which is a stock index comprised of approximately 48% technology stocks, has quietly (or maybe not so quietly if you were paying attention 😊) declined by over 5% to start the year. Taking a deeper dive into the NASDAQ, roughly 40% of the companies in the NASDAQ index are priced 50% below their trailing year high. Netflix isn't the only innovative company in oversold territory.  If I'm an investor with time on my side, the sour faces short-term investors are giving to last year's winners should be a welcome sight.  In previous quarters we were adding companies like PepsiCo and McDonald's whose consistent growth and increasing dividends were being shadowed by high flying growth stocks.
     I often compare the average investor in the stock market to two apprentice carpenters on their lunch break arguing whether the hammer or the saw is the best tool to own, while the master carpenter smiles at the absurdity of the question.
All that Shines
   I have my eye on gold to start the year mostly because of curiosity.  Historically gold has done an "OK" job keeping pace with inflation.  It is for this reason that many people choose to store their excess/I don't anticipate needing but want them close by, dollars in gold to preserve purchasing power.  However, if gold historically has kept pace with inflation, it is late to the party.  Gold was flat in 2021 while inflation skyrocketed to 7% according to the Bureau of Labor Statistics. I would expect gold to begin to climb but then again, gold doesn't always do well in rising interest rate environments because it doesn't pay interest and investors may be lured to enter a new bond with higher interest rates. We have slightly increased gold positions (1-2% change) in some of our models because we believe the upside for gold as a hedge against inflation and added diversification outweighs the potential downside.
Life Insurance Review
      Insurance is a powerful tool in capitalism because it allows us to mitigate risk.  I can build a $300,000 home and not worry about losing my $300,000 because I can buy an insurance policy to protect my investment from fire, wind, and water. We are quick to insure our possessions but often fail to insure the engine that makes those items possible: us! The new year is always a good time to review your family's life insurance protection to make sure your nest egg is whole no matter what.  Contact our office if you would like a no-obligation review or quotes.
Market Closed Monday
    All NYSE markets will be closed on Monday in observance of Martin Luther King Day.  Enjoy the weekend and thank you for your trust!
Disclaimer: Crosby Advisory Group is a registered investment advisor.  This newsletter is for informational purposes and should not be taken as individual investment advice without a personal consultation. Crosby Advisory Group employees may own stocks mentioned in this newsletter.  Don't buy or sell an investment solely based on this newsletter as it may not be suitable for your goals. Investing involves risk including the potential loss of principal.  Insurance products are sold through our insurance agency NMD Insurance.
Follow us on Social Media
Facebook: Crosby Advisory Facebook         Instagram: Crosby Advisory Instagram      Youtube: Crosby Advisory Youtube
--
Nate M. Crosby, CRPC
Crosby Advisory Group, LLC
www.crosbyadvisory.com
Phone: 855.496.0770
       419.496.0770

Wealth Accumulation, Retirement Income Planning, Insurance
Listen to our podcast Dynamic Growth Here. New episodes released every Monday.