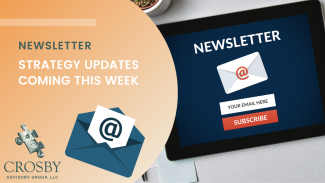 Strategy Updates Coming This Week
Strategy Updates Delivered This Week
Fourth-quarter strategy updates will be delivered this week to investors who are in our risk-based investment models. We will discuss how all our risk-based strategies, Conservative through Aggressive High, are positioned or the first part of the quarter. If you can't wait to receive the email, you can listen to general commentary here. For the first half of 2022, many investors and money managers were searching for an asset class to provide stability, as stocks, bonds, real estate, and gold have all lost value since January 1st. Interest rates have finally climbed to the point where some money market mutual funds are approaching a yield of 3%. While we still see challenges ahead, the availability of stable accumulation through interest will strengthen all investment models. Additional changes include oil making a comeback into our strategies, and an ETF to take advantage of the strengthening dollar.
Why isn't my website showing up on Google?
Have you ever searched for your business, product, and/or service online and felt a tad frustrated with the results? The good news is you are not alone! Derek and Carly field this question a lot with our marketing clients – "how can I improve my ranking on Google?" A lot of factors come into play when it comes to organic search but in general SEO (search engine optimization) is a long game. That means someone on your team needs to be constantly creating and posting high-quality content that is full of relevant keywords. Remember, Google is in theory trying to serve searchers the best piece of content so – our advice – anticipate those search terms and start writing. Need help? Give us a call.
Great Month for Added Protection 
September was National Life Insurance Awareness month and I'm proud to say we helped clients place more policies than in any other month in our history. What I love about that is no matter what type of policy is purchased, or for how much, the policyholder and their loved ones are in a financially stronger place than they were prior to the policy being put in force. Here are two common questions that seem to come up in my meetings:
What do people do when they like the idea of a permanent benefit but also like the amount of insurance that can be purchased with term? Answer: While there may be a limit to the total amount of life insurance that an individual can have, there is no limit to the number of policies. If a policyholder has a budget and a coverage amount goal, we can calculate the ratio of permanent to term insurance that will achieve your coverage goal and fall within your allocated budget.
What do I do if I change my mind in a few years on the type of policy I have? Answer: All term policies issued (by us) are fully convertible, which means if you change your mind, you can convert a portion or all of your policy to a permanent option without a medical exam. As your needs change, your policy should be able to change as well. Convertibility also ensures you can lock in a death benefit for the future if your health dramatically changes because the insurance company can't decline the conversion to permanent insurance as long as the policy is in force and under the age of 72.
Erie Insurance now offers Flood Insurance on their Homeowner's Policy
Policyholders have long been able to purchase water and sewer backup coverage on their homeowner's insurance policies. If the homeowner also wanted flood insurance, in the past, they would have to purchase a separate flood insurance policy. If you have ever bought a home that was in a flood zone, your mortgage company may have even required you to carry a separate flood policy. Erie Insurance is now offering flood insurance on their homeowner's policies, which would eliminate the need for two policies. The insurance company will define a flood loss as surface water entering the home through a door or window. Contact our office to review your insurance protection.
The Kick Heard Around the World
Thank you to everyone who supported the Hillsdale High School Athletic Boosters by purchasing a ticket for a chance to kick a field goal and win $10,000/$2,000/$1,000. We had tremendous support from the community; it was a really fun night and we look forward to doing it again next year!
Disclaimer: This newsletter is for informational purposes, represents the opinions of Crosby Advisory Group, and should not be taken as individual investment advice. Investing involves risk including the potential loss of principal. Consider all risks and fees before investing. Crosby Advisory Group, LLC has ownership interest in CAG Marketing and NMD Insurance.
Follow us on Social Media
Facebook: Crosby Advisory Facebook         Instagram: Crosby Advisory Instagram