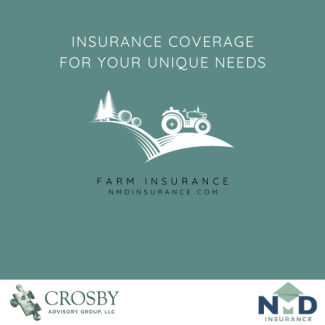 Simple Steps to Maximize Your Farm & Ranch Policy
Simple Steps to Maximize Your Farm & Ranch Policy 
In honor of the national Future Farmers of America (FFA) week, we partnered with Celina Insurance Group to host a luncheon for our local farmers and Hillsdale FFA. In between bites, we discussed our favorite topic - insurance! 
Let's face it, most insurance policies were not built with you in mind. To meet your needs, farms require a combination of homeowners and business coverage with additional add-ons (such as equipment and livestock) as well. The key is to be certain with what you want and need, then make sure your insurer provides it.
Here are five steps to get you started: 
Work with an agent that will customize your policy – your needs are unique and your coverage should be, too!

Ask questions – some policies will cover everything, while others will protect either your personal dwelling and possessions or the equipment and buildings used in your business 

Be sure to protect your property and contents against damage (such as fire, theft, flooding, etc)

Consider insurance for livestock, harvested grains, etc., and make sure you ask about replacement costs – how are they calculated, are lost profits included in the calculations? 

Think about workers' compensation for your employees, liability insurance for visitors, and specialty coverage for any vehicles you use for work rather than just for personal driving 
When your farm is both your home and your business, insurance can seem complicated. My advice: find the right partner and get a single policy that meets all of your needs! Contact us for advice / quotes - we are always happy to help!