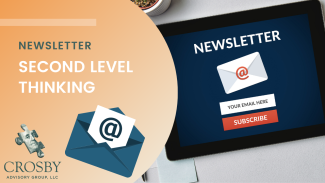 "In investing, being correct about something is not synonymous with instant proof of being right."
         -Howard Marks
This is two weeks in a row I started out the newsletter with a Howard Marks quote. "Nate, are you running out of material?" No, there is plenty of material in this well, but our current market cycle is perfect for Marks' insight, as he was skilled in the art of identifying risk and what he called, "second level thinking."
Second Level Thinking
This approach attempts to peer into the future to see things beyond what the masses see (more on this below). We just closed one of the worst months in the stock market since 2008. If we are looking at the NASDAQ index alone, it was the worst month since 2008, so wear your "I didn't panic sell in the bear market badge" proudly. You earned it.
For the past two months I have sounded like a broken record in communicating why the market has declined since January 1st: rising interest rates and supply chain constraints. Yes, at any point in time there are a hundred other things that contribute to price fluctuation, but those two are driving market volatility. Our Federal Reserve missed the opportunity to raise interest rates slowly so now they are playing catchup trying to rein in inflation that they labeled as "transitory" less than a year ago. As a result, the stock market has been trying to price in the cost of rising interest rates, as we still do not know the extent to which rates will rise nor how fast.  After a multi-year run in stocks it seems for the time being any sign of weakness drives individual stocks and the market, lower. We expect the market to remain volatile in the near term. If you missed it, we did a podcast and blog on defining risk and how your definition of risk can help you navigate volatile times successfully.  If you missed it, you can listen to it here or check out a condensed version that Carly Snyder posts on our website.
Risk can mean many things. Perhaps risk to you is volatility. Academics have often used volatility as an expression of risk because it is easily quantifiable. As of May 1st, the NASDAQ stock index is down over 20%. However, is volatility really risk? I would argue no for most investors. Remember, the portion of your account that is invested in stocks have a time horizon of 3-5 years. The NASDAQ index was down over 20% in March of 2020, yet even with its recent decline of 20% the index is much higher than it was in 2020. The downturn the market took in 2020 did not prevent its long-term growth. I am confident the same will be true in the future. Last week a client sent me a message asking about a particular growth stock he was planning to buy for his daughter and asked what I thought of the stock. My answer varied depending on how long she planned on owning it. If she was planning to own it for 5 years, I thought it may be in the top 10 best stocks that he could buy for her. If he was buying it for the next 6 months, then probably not. When purchasing a stock with a durable competitive advantage, risk of loss decreases over time. This was ultimately what Howard Marks was describing in our opening quote. Great investors understand the market can be irrational for an extended period. They are willing to appear wrong in the short-term with faith they will be proven correct in the long-term.
Volatility can be controlled, but not eliminated from the investing experience. Volatility is the process of finding truth. Long-term we are highly confident in the direction of our investments, but in the short-term it is healthy for prices to find their natural level. The history of investing is a repeating cycle of over exuberance and irrational fear. Like a boat riding ocean waves, as long as our investments are sound the ups and downs of the market have little effect on the ultimate destination. As investors when we are able to shift the definition of risk from volatility to avoidance of permanent loss, we are better able to obtain what Marks called, second level thinking. Let me give you what I believe will be an example of second level thinking that will playout to the investor's advantage in the future.
Last week Amazon and Apple reported quarterly earnings. Amazon roiled markets by reporting earnings that were under what was expected and cited increased costs in shipping. Amazon shares declined by almost 15% the following day. As stated earlier, any sign of weakness in this market provides a reason for stocks to decline. What was missed was Amazon Web Services (AWS) grew by 37% with a huge growth in profit margin. Apple reported a monster quarter with total revenue in excess of $97 billion dollars, but cited they expect shutdowns in China to shave between $4-8 billion dollars away from next quarter's earnings. The market saw that and caused Apple's stock to decline the next day. Second level thinking looks beyond the news of the day. It is our opinion, long-term, these problems are corrected and not something to be feared. Tim Cook, CEO of Apple, said that most of the problems in China are in the Shanghai Corridor and some of those factories are up and running again. That's a short-term problem that will eventually pass, giving Apple with an opportunity to beat expectations in the future. Will they? We shall see. My second level thinking says betting against innovative companies like Apple and Amazon has proven to be a losing strategy and long-term we can be proven right by remaining steadfast in our convictions, as all great investors do. Those two companies are examples of the horses that got us here and I'm confident in the long run, they will be the horses that help us continue our long-term trajectory up and to the right. Even if your strategy doesn't own these companies individually, they are found in our S&P 500 index and our NASDAQ 100 ETFs. We stay invested in these companies and funds because they give us the best chance to outpace inflation and when they turn around, they do so without warning. We need to be in them to fully participate in their long-term growth.   
A few additional thoughts
We know that your time is valuable, and we are working on ways to keep you more up to date on portfolio changes that you can read at your leisure. Beginning this week, we will begin sending portfolio updates of our risk-based models (Conservative, Moderate, Moderate High, Aggressive). We would like to send those out every 3-4 months. If your account utilizes one or more of those strategies, we would love your feedback so that we can serve you better.
I saw Carly Snyder, who heads up CAG Marketing, is offering our business clients a free one-hour marketing session that will allow business owners to walk away with actionable steps to help grow their business. That's right, I said free. She may be after me for filling up her schedule announcing this in our newsletter, but her work is something that I'd like all our clients to be exposed to. She changed the trajectory of Crosby Advisory Group and I'm highly confident she will do the same for everyone she comes in contact with. She is that good. If you would like to receive her informational flyer on this offer, send me an email and I'll get you one. I owe you Carly, but don't plan any vacations over the next month!
Stay strong. Stay brave.  Stay confident.  Those are three traits that the future tends to reward.  Thank you for your trust.
Disclaimer: This newsletter represents the opinions of Crosby Advisory Group, LLC.  Crosby Advisory Group, LLC is a registered investment advisor in Ohio and Florida.  Investing involves risk including the potential for loss of principal.  Understand all risks and fees before investing. Information in this newsletter does not replace individual consultation. 
Follow us on Social Media
Facebook: Crosby Advisory Facebook         Instagram: Crosby Advisory Instagram      YouTube: Crosby Advisory YouTube