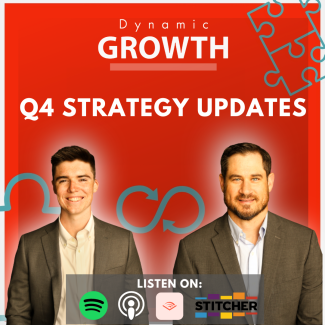 Bear markets make millionaires 
We will continue to urge investors to keep focused and stay the course. That means – do your research! Literally, write down on a piece of paper why you chose a specific investment. Study those companies' earnings and watch inflation and interest rates – all these things will help protect your assets. Nate and Derek give additional insights on various asset classes in the podcast. They discuss their perspectives on what's happening with:
Energy
Oil 
Real Estate
Bonds
Gold 
While our stock position remains defensive, data is pointing us toward areas we can look to for competitive yields and less risk. 
All eyes are on the Fed & Q4
The next inflation number will be released on Oct 13; however, we're more interested in the November announcement. As things like energy spike back up again, we will likely feel the effects in the form of inflation. Each time the Fed raises interest rates it leads to: 
Decreased profit margins for companies 
Increased yields in bonds, money markets 
Our outlook remains – you guessed it – bearish for Q4. Let the data guide you in your decision-making. Certain things will perform in certain conditions – there's a time and place for everything.  
As we enter Q4, our clients will receive their Q4 investment summary outlook documents. Remember that our models are dynamic so they will continue to charge. Don't hesitate to call our office if you have any questions at all. 
Please note: This content is not a direct recommendation for investment. Investing involves risk including the potential loss of principal. Not all investments are suitable for all people. Crosby Advisory Group, LLC is a registered investment advisor in Ohio, Florida, and Texas.