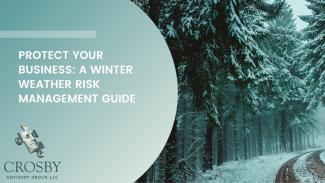 Protect your business: A Winter Weather Risk Management Guide
If you're living in the Midwest, the season of snow and ice is upon us! Grange Insurance put together a helpful 12-page guide for protecting your business and home from the winter blasts. 
Electric space heaters – did you know that space heaters account for 40% of home heating fires? If you use a space heater in your home or business, make sure you:
Give the unit at least 6 feet of space away from any combustible materials 
Unplug the space heaters at the end of each day and make sure it's cool before you leave for the day 
Only use a space heater as a temporary heat source 
Holiday lights – did you know they cause roughly $9 million in direct property damage annually? Stay vigilant by:
Outdoor décor and cords need to be weather resistant
Don't overload outlets with too many decorations and avoid plugging extension cords into power strips
Take exterior lights down within 90 days to minimize damage from weather and critters who can chew on them
Ice dams – when warm air escapes the attic space due to insufficient insulation, snow melts and turns to water then can turn to ice in the right temperatures. Check your insulation and consider having a professional install ice guard on your roof. 
Preparing your building exterior and interior – the winter months can increase slips, trips, and falls so here are some ways to prepare:
Have plans in place for snow and ice removal from the exterior areas
Inspect your roof periodically before and after the winter months arrive
Ensure all gutters are cleaned thoroughly by removing buildup and unclogging drains
Keep heat set at no lower than 55°F
Test all alarms prior to the winter season, including fire, smoke, and carbon monoxide detectors
Safe Winter driving – reduce your speed, avoid hitting the brakes, do not use cruise control, and above all else stay off the roads if you are not comfortable driving in snow and ice. Check your vehicle for:
Coolant and wiper fluid
Condition of your tires 
Put supplies in your vehicles – such as blankets, food, water, jumper cables, cell phone charger and more
Snow removal – snow can be very heavy so be careful when shoveling or removing it. Consider hiring a professional or using a snow blower if you can. 
Working in cold weather – many professionals spend much of their time outside in the elements. With dipping temperatures, it's harder to maintain comfortable body heat. Try these tips:
Wear a hat, gloves, extra layers of socks, and base layers of clothing 
Take short breaks frequently in a warm, dry location if you must be outside for an extended period
Stay hydrated by drinking plenty of water
Download the full pdf for many more tips from Grange Insurance. Stay safe!