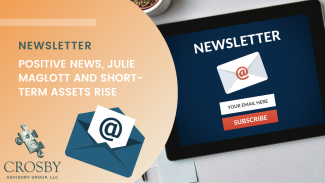 Positive News, Julie Maglott and Short Term Assets Rise
First Leg of Economic Gauntlet Down
If we needed a few words to sum up the investing environment of 2022, they would be interest rates and inflation. The first rises substantially in an attempt to bring down the latter. This week we will run a gauntlet of economic data that will give us a better understanding of what we could expect in 2023. Perhaps the biggest data point was the Consumer Price Index (CPI), which is hot off the press, released today (December 13) at 8:30 AM. CPI is used to measure inflation, or the rate of price changes on daily living costs such as shelter, energy, and food. Last month CPI came in at 7.7%. In simple explanation, the basket of goods that is measured to gauge inflation got 7.7% more expensive than it was at that time last year. The Federal Reserve's target is 2%. We are still a long way off from meeting that goal, but this morning we got a meaningful decline in the inflation rate. The consensus was that inflation was expected to come in at 7.3% year over year. However, the Bureau of Labor Statistics reported 7.1% inflation, surprising investors. Stocks rallied this morning on the news. While further interest rate increases in 2023 are likely to come, it certainly is a positive sign that these interest rate increases are in fact reducing the rate at which prices are increasing. That ultimately needs to happen so that interest rates can stabilize. 2022 has witnessed the fastest interest rate increases since the 1980s. Today and tomorrow the Federal Reserve Open Market Committee meets to discuss the next interest rate increase (yep, it's still coming). The consensus is that the Federal Reserve will begin to attempt to "moderate" interest rate increases by raising rates 0.50%. This increase would be down from the previous several increases of 0.75%. A better than expected inflation report and a "moderate" rate increase could be the groundwork for a Santa Clause rally. Only time will tell.
Meet The Team
Per a reader request, we are starting a new segment that will introduce a different member of our team in each newsletter. This week we are highlighting Julie Maglott, who is the Director of Insurance Services in our Ashland office. Those of you who trust us to protect your home, autos and/or business have likely worked closely with Julie over the years. What you may not have known is that Julie was a client of Crosby Advisory Group before becoming employed by NMD Insurance, which is the name of our insurance agency. Julie was in the office one day dropping documents off to Macy Vogel, who was getting ready to take maternity leave. I casually mentioned to Julie if she ever considered making a career change, we would love the chance to make her an offer. I knew her communication skills, work ethic and organizational skills would make her an asset to our clients. That turned out to be one of the best business decisions I've ever made. Within a matter of a few years, Julie went from being a licensed property/casualty insurance agent to overseeing all insurance operations in our main office. During the Covid pandemic, our office was permitted to remain open as an essential service. Although we allowed our employees to work from home, Julie continued to work in the office as she felt her presence would reassure our policyholders our promise to protect their assets would continue to be our priority, despite the fear and uncertainty of the moment. I will never forget that. Julie's courage was the glue that held our service together during that difficult time and she continues to lead by example. Our clients work hard and spend a lifetime building assets; Julie understands the coverages she puts in place can be what saves them from experiencing financial disaster. When Julie is not being an insurance star she enjoys hiking, riding ATVs, watching her children play sports and hosting get-togethers with friends and family. Julie is highly active in her hometown community of Lucas where she is President of the PTO and sits on the board of the Lucas Schools Sustaining Fund. Julie is also Treasurer of Lucas Pewee Football. Yep, she's a go-getter. 
Short-term Asset Strategies Excelling
There is a season for everything; tis the season for short-term assets. We define short-term assets as investments that may need to be liquidated in under three years. As a result, there is no minimum time the investments need to be held. While our short-term strategy is dynamic in how it is invested, presently it consists of our SEI or Schwab money markets, 2% healthcare sector, and 2% consumer staples sector. Both are traditionally defensive sectors and pay dividends. We routinely back-test our strategies over extreme economic conditions. If we assume both the healthcare sector and consumer staples sector experience their worst drawdowns in modern times, our short-term income strategy would still continue to grind higher with a Federal Funds rate of 5%, which is where consensus estimates have rates to be in 2023. While rising interest rates have provided challenges to stocks in 2022, they have been a blessing to those seeking to grow assets with relative safety. Back-tests based on historic drawdowns of healthcare and consumer staples sectors. Future drawdowns are unknowable.
Disclaimer: This newsletter represents the opinions of Crosby Advisory Group. This newsletter is not designed to replace individual investment advice. Investing involves risk, including potential loss of principal. Not all investments are suitable for all investors. NMD Insurance is our insurance agency. CAG Marketing is our business growth division of Crosby Advisory Group, LLC. Crosby Advisory Group is a fee based investment advisor.