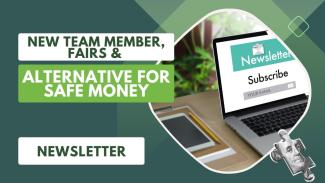 New team member, fairs and alternative for safe money
Crosby Advisory Group welcomes Jarrod Lifer to the team
Jarrod is a 2020 graduate of Hillsdale High School. He is currently a senior at Ashland University where he is majoring in Finance and minoring in Insurance. He had us at finance and insurance! Jarrod started with our firm back in June as an intern. We quickly noticed his sound work ethic and dedication to his internship. When he expressed his desire to build a career in wealth management, we knew we wanted to have him on our team. Jarrod will be assisting several days a week with research, reporting and day-to-day client customer service. Jarrod's schedule is extremely full as a full-time student. When he does have free time, he enjoys being with friends, reading, and gaming. We are excited to have Jarrod on our team and eager to see him grow.

It's Fair Season!
Growing up in the Ashland area, it was instilled into all of us the important role that farms play in our community and beyond. Whether it's buying local honey, picking up veggies at the weekly farmer's market, or supporting local children with a 4H or FFA project – it's a priority for our office. This year we've tried to make it to several of the local fairs that our clients and their families participate in. We started a new tradition a few years ago of purchasing a 4H or FFA project from a local fair exhibitor. It's a win-win for us as a company and as members of the community. If you've known a child who has shown a market animal, then you know how hard they worked to get to that moment. In fact, I feel a connection to the process because it's a lot like starting your own business. These young, local entrepreneurs have attended various 4H/FFA meetings, project judging, and the required quality assurance class. They also make time to walk, feed, bathe, and manage vet visits and weigh-ins. They take time to form a bond with their projects, which allows them to feel comfortable during the shows they participate in at the Fair. We're proud of the hard work and dedication of our local youth and are gracious to be able to show them our support in return. We look forward to seeing you all at the next Fair!
    
Alternative to Bonds
Bonds and fixed-income investments are added to portfolios to add diversification and attempt to limit volatility. With 3-to-12-month treasury bills all paying more than 5%, we currently love holding individual bills for our clients as part of their fixed income allocation. Bond funds and ETFs have not been as loved, and for good reason. In 2008 you could have bought a share of Vanguard's Total Bond Market ETF (BND) for $78. 15 years later, today you can buy a share for about $72. If you allocated 30-40% of your portfolio to BND your share price went down from the initial purchase. If you held the ETF outside of a retirement account, you also would have been taxed on the interest. Yuk!
Suppose in 2008 our investor was visited by a time traveler and given two options: 1) continue investing in your bond fund, it won't perform as expected, and you may be taxed along the way, but your stock performance will compensate for its underperformance or 2) choose another option with stable growth, dividends are not taxable, cash is accessible at all times, and if you die your family will receive a tax-free sum that is multiple times greater than what you have saved. What magic fund is that? It's not a fund, it's Participating Cash Value Life insurance. 
Of course, our time traveler has no idea what the performance of bond funds will be going forward, but the point is there is more than one way to achieve your accumulation goals. Thinking outside the box can have tax advantages.
Happy Labor Day!
We hope you enjoy your hard-earned Labor Day break! On Sunday, we caught this view of the Cleveland Air Show from Progressive Field.
Crosby Advisory Group, LLC specializes in wealth accumulation, asset protection, and business growth. If you have a question, contact one of our experts.
Disclaimer: This newsletter is for informational purposes and does not represent individual investment advice. Crosby Advisory Group, LLC has three branches of services: registered investment advisor, marketing firm, insurance agency. Investing involves risk including the potential loss of principal.