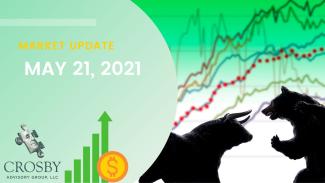 Market Update: May 21st 2021
Investment Markets as We See Them, May 21, 2021 (click to watch the video)
     It's Groundhog Day!  No, not the actual day in February, "Groundhog Day" the movie.  Perhaps one of Bill Murray's best.  You know the one where he wakes up and every day is a repeat of the day before.  We just had a Groundhog Week.  Last week the stock market sold off for the first three days only to rebound Thursday as again investors said, "too low, too fast." As I sit here on Friday, May 21st, it feels like we've been here before.
      Here are my thoughts.  I heard Lex Fridman recently say that intelligent people are willing to change their mind when new information is brought to light.  This week we got new information.   Derek, who helps me manage our portfolios, asked me what I was looking at this week.  I responded by saying my eyes were on The Home Depot's earnings that were released before the opening bell on Tuesday.  Home Depot (HD) has been part of the foundation of our equity models for a long time and they have had a fantastic run over the past 12 months, fueled in part by stimulus and shelter-at-home mandates. In short, people had nothing to do so they put money into their homes.  Would the trend continue? Analysts were expecting sales growth to increase by 25% year over year.  That is a tall bar to clear, even for American's best run retailer (my opinion).  Home Depot responded by saying, "25%, is that all?" They reported a year over year net sales increase of 32.7%, smashing expectations, and……Home Depot shares fell after the market bell on Tuesday.  (Insert Wah Wah Wah soundtrack)
      So now we have our new information.  Over the past month we have witnessed some of the tech sector's best and brightest stumble and get cut down.  "Microsoft (MSFT), I'm looking at you, buddy." There had been a lot of buzz about finally seeing a rotation from growth stocks to value stocks.  It appeared that was indeed happening.  Derek, who we affectionately call, "The Oracle of Orrville", among other things, astutely responded to shares of Home Depot falling by saying, "It appears it's a valuation thing, not a tech thing." In other words, despite fantastic earning reports, for the moment, the market is struggling to send companies that are trading at higher multiples even higher. After all, I would consider Home Depot to be a value stock, a value stock on steroids, but it has proven to be a stable company with a fantastic dividend, which is the hallmark of a value stock.
      So what has changed? We still favor financials and energy to outperform this year and our risk-based models are tilted slightly for that theme.  Inflation has become the awkward uncle at the family reunion.  We all just wish he would leave, but he is here, so we have to deal with him, and he will likely stay around longer than we'd like.  Assets that will benefit from inflation are part of our models, including real estate, commodities and gold. My recommendation for investors who own individual stocks as part of their portfolios, worry less about where the market is and what it is doing, and continue to buy stocks of fantastic companies.  That includes both growth and value.  We are not buying stocks for this quarter. We are buying them for a multi-year horizon. The willingness to look foolish in the short-term is a superpower all great investors possess.  We can rest easy at night knowing our accounts are full of leaders in their industry and diversified across many asset classes.   Have a great weekend!  Thank you for your trust.
Nate Crosby, CRPC
ncrosby@crosbyadvisory.com
www.crosbyadvisory.com
Phone: 855.496.0770
             419.496.0770