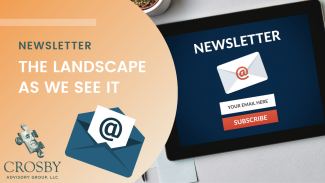 The Landscape As We See It
Weekly Wisdom
"Whoever is happy will make others happy too." -Anne Frank
You probably read the Diary of Anne Frank somewhere around 5th grade. My daughter brought it home from school this year and I reread it as a father. Aside from the unimaginable horrors of the situation, what struck me was how eloquently Anne wrote for her age and how positive she remained to the very end. "As long as this exists, I cannot be sad," she wrote, referring to a small window in the attic that she carefully peaked out as her only connection with the hope of the natural world. Her diary has many truly profound thoughts which you could easily confuse with a philosopher if you didn't know it was Anne's writing. Robert Louis Stevenson was quoted "Don't judge each day by the harvest you reap, but by the seeds that you plant."  In only 15 years of life, Anne planted more seeds than most.
Last minute IRA contributions can be made by Thursday
The rumor is Uncle Sam wasn't kidding about the tax filing date, so if you have not yet filed your taxes, last minute IRA contributions for 2021 can still be made. If you still need to make a contribution, we highly recommend that you do not mail a check. Our office can assist you with a one-time auto deposit from your bank account to make sure the deposits are credited by the 18th. Contact Macy at 855.496.0770.  
In case you missed it
Lowe's CFO stepping down: Chief Financial Officer David Denton who joined Lowe's in 2018 from CVS Health Corp announced he is stepping down. Lowe's is one of the stocks on our watchlist. The company and its stock have performed well over the past several years. Lowe's wasted no time in announcing a replacement in Brandon Sink who has been with Lowe's since 2010. 
Berkshire Hathaway bought HP. Well not the entire company. Warren Buffett's Berkshire Hathaway purchased 4.2 billion dollars of the printer and computer maker's stock, or approximately 11.4% of the company. The once tech-averse Berkshire Hathaway has also made substantial purchases into Apple and IBM in previous years. HP's price to earnings multiple and PEG ratio (PE / Earnings Per Share Growth) scream Warren Buffett's name. Value, Value, Value. HP's shares rose 15% on the announcement.
Apple started MFG in… In a move to reduce reliance on China supply chain, Apple began manufacturing its iPhone 13 in China. Apple has done a fantastic job of controlling its supply chain. The world's largest company by market cap is growing stronger. This is a move we are seeing much smaller companies make as well. A supply chain with a port that requires workers to offload the supplies is a potential problem. 
The investment landscape as we see it
Interest rate talks continue to be the main driver in the U.S. stock and bond markets. Several Federal Reserve policy makers have gone on record saying they expect a 0.50% interest hike in May. It has been several decades since the United States has seen a half of a percent increase at one time. It seems apparent that the Federal Reserve is behind where they should have been. They seem to be playing catch up now and their hand has been forced due to surging inflation. Last year when the S&P 500 was blowing its top off with an annual gain of 26%, the Federal Reserve appears to have missed its opportunity for a steady, predictable increase in rates. Like the teenager who hit the snooze button one too many times before school, it now seems like the Fed knows it is late and its attempt to catch up will have the appearance of irresponsibility. Just the appearance though 🙄. We expect growth stocks to remain volatile in the near-term. On the stock portion of our strategies, dividends and new money coming into our accounts favor companies with low price to earnings ratios and low PEG ratios. In plain English, we favor stocks of companies that are priced inexpensively compared to the growth in earnings they generate. A few examples of individual stocks that currently fit that narrative are Lowe's, Deere & Co, Caterpillar, QUALCOMM or simply companies with unshakable product consumption like Waste Management.
We serve many clients who work in manufacturing and import and export many different types of products and materials. In talking to them it seems like inflation is here to stay for the foreseeable future. Many price increases have yet to be passed onto the consumer. In 2022, Walmart's shipping costs alone have risen by a minimum of 26%. Several of our risk-based models, from Moderate High to Aggressive, now contain two different commodities indexes. Some economists believe we are nearing the peak in speed of price increases, but as long as prices are increasing, we will maintain a healthy position of commodities in our portfolio. While this can't help us at the supermarket or hardware store, we can take advantage of it in our investment accounts.
"What's next for real estate?" I fielded that question several times last week. If you look at the real estate exposure in our strategies, it is overwhelming commercial. Yes, the Vanguard Real Estate Index does have some residential real estate exposure to it, but most of the top holdings are companies that own warehouses or data centers, cell phone towers, healthcare facilities, retail stores, manufacturing facilities, and other commercial exposures. Vanguard's Real Estate Index is near its all-time high. Individual real estate companies like Public Storage and CCI have been hitting it out of the ballpark. Public Storage hit an all-time high last week. Real estate has taken a larger portion of our strategies in 2022. 
What is not high on our list is bonds. When rates begin leveling off, which may not happen until 2023, bonds will become attractive again. For now, they seem doomed to a gradual decline as interest rates rise. Remember, when interest rates rise, bond values go down. It is for this reason that we have significantly reduced bond exposure and moved remaining bond exposure to shorter duration which is less affected by interest rate increases. As for now, we feel there are better ways to create low volatility portions of the strategies.
Can't find a contractor? Let us help
Crosby Advisory and NMD Insurance service and insure some of our areas most reputable contractors. If you can't find a contractor for a job you need done, give us a call, chances are we have somebody who can get the job done.
The yield curve and the VIX explained in the latest Dynamic Growth Podcast. 
Disclaimer: This newsletter is for informational purposes and should not be taken as direct investment advice without a consultation. The articles in this newsletter are the opinions of Crosby Advisory Group and NMD Insurance. Investing involves risk including the potential loss of principal.  Not all investments are suitable for every investor, understand all risks and costs before investing.
Follow us on Social Media
Facebook: Crosby Advisory Facebook         Instagram: Crosby Advisory Instagram      Youtube: Crosby Advisory Youtube