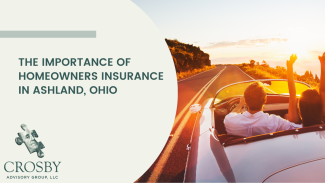 The Importance of Homeowners Insurance in Ashland, Ohio
The Importance of Homeowners Insurance in Ashland, Ohio
Homeowners insurance is an important aspect of protecting your home and belongings. It provides coverage for damages and losses that result from various events, such as natural disasters, theft, and more. As a homeowner in Ashland, Ohio, it is crucial to understand the importance of having adequate homeowners insurance coverage. In this article, we will explore the key benefits of homeowners insurance and why it is a necessary investment for Ashland residents.
Protection from Natural Disasters
Ashland, Ohio is located in the Midwest and is known for its changing seasons, including severe thunderstorms, and winter storms. Natural disasters can cause significant damage to homes, including roof damage, broken windows, and more. Homeowners insurance provides coverage for damages caused by natural disasters, helping you to quickly recover and get back to your normal routine.
Protection from Liability
Homeowners insurance also provides liability coverage, which protects you in case someone is injured on your property. For example, if a guest falls and gets injured while visiting your home, homeowners insurance can cover the costs of their medical expenses and other related expenses. This is an important aspect of homeowners insurance that can provide peace of mind and help you avoid costly lawsuits.
Protection from Theft and Burglary
Another important benefit of homeowners insurance is the protection it provides against theft and burglary. Your insurance policy can cover the costs of repairing or replacing your stolen or damaged belongings. This includes everything from jewelry, electronics, and other valuables, to furniture and appliances.
Coverage for Living Expenses
In the event that your home becomes uninhabitable due to a covered loss, homeowners insurance can help cover the costs of temporary living expenses. This includes hotel stays, meals, and other related expenses. This coverage ensures that you and your family have a place to stay while your home is being repaired, providing peace of mind and a sense of security.
Affordable Coverage
Homeowners insurance is an affordable investment that provides a range of benefits and protections. The average cost of homeowners insurance in Ashland, Ohio is relatively low, making it an accessible option for most homeowners. In fact, the cost of homeowners insurance is often outweighed by the benefits it provides, making it a smart investment for anyone looking to protect their home and belongings.
In conclusion, homeowners insurance is a necessary investment for Ashland residents. It provides protection from natural disasters, liability, theft and burglary, and can help cover the costs of temporary living expenses. With its affordability and range of benefits, it is an investment that provides peace of mind and protection for your home and belongings. Get a quote from our office to see how we can help you insure your most valuable assets.