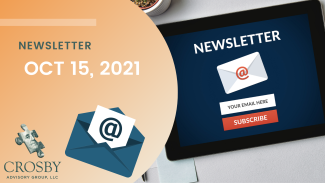 Free Scorecard, Earnings Season, and a Dividend Superstar
Financial Scorecard for Free
    Derek Ballinger from our office, or D-Stonks, as some of you call him, spent two weeks in Europe.  Rest and ample amounts of ale served him well as he has finally completed Crosby Advisory's first edition Financial Scorecard.  The program, which he built from scratch, not only tracks investment performance, it also measures all aspects of financial planning and illustrates how the plan can be improved.  Financial planning is a junction of investment performance, insurance and income protection, tax planning, and estate planning.  Now in real-time, you can not only see where you have been but also where you are likely to end up financially in 5, 10, and 20 years from now. The ability to see into the future, with modest assumptions, allows you to make decisions today that can enhance your life in years to come.  Best of all, it is free to use!  Contact our office if you would like to learn more.
Earnings Season to the Rescue!
   The stock market took it on the chin in September but seems poised to bounce back!  Some analysts believe October's earnings season will provide the foundation for another run-up and to the right. Over the next several weeks, many of the members of the S&P 500 will be reporting 3rd quarter earnings results.  While it is expected that the earnings growth of many companies will slow compared to previous quarters, so far the companies that have reported have, in large, provided positive results.  The total earnings of the S&P 500 is expected to be up 27% over this time last year.
    We fielded several calls in September from nervous investors who were asking if they should be moving to a defensive position.  This spurred us to do a podcast on the topic of keeping a clear mind.  Evenness of mind is key to being a successful long-term investor. We give examples of how panic typically proves to be a highly expensive and destructive response. I encourage you to listen to that podcast here. (I even find a way to weave in the Cuban Missile Crisis to the investing lesson. Kennedy would be proud.)
Opportunities for Dividend Investors
     In the newsletter, we like to highlight the interesting opportunities that we find in the market when we see them. Some of the best opportunity we find is when we see staples in our portfolios drop for no apparent reason or there is profit-taking which drives the stock price down, but as long-term investors, we can benefit from short-term fluctuations in price if we are disciplined in our buying. We believe we have found such an opportunity in Crown Castle International.
   Crown Castle International, ticker symbol $CCI is a Real Estate Investment Trust (REIT) that owns cell towers used by some of the largest telecom companies (AT&T, Verizon, T-Mobile) which can give your portfolio exposure to real estate without having to clean toilets or manage tenants. The beauty of REITs is that they are legally obligated to pay out 90% of their earnings to their investors in the form of a dividend so the yields on REITs can be much higher than other large-cap stocks. 
    When you are looking for dividend-paying stocks to add to your portfolio you need to look for a few things. It's easy to get sidetracked with absurdly high yields, stocks paying 20%+ with no earnings can be cause for concern. If you are investing for passive income you want that dividend to be stable and appreciates like clockwork. What you want is something incredibly boring that makes money quarter after quarter and year after year. I encourage you to use a resource we have found very helpful for dividend investing, https://www.macrotrends.net/stocks/charts/CCI/crown-castle/dividend-yield-history and see for yourself the track record of a company to pay its shareholders in ever-increasing amounts. 
  Crown Castle is a perfect example of a dividend-paying stock to own for the long term. Over 80% of Crown Castle's revenue is recurring and a result of a long-term lease of over 5-15 years with 5-10 year renewals. Crown Castle has grown its dividend every year since 2014 and has committed to increasing the dividend by 7-8% annually. The sector they operate in is bulletproof, mobile data usage is predicted to double every two years and with the emergence of 5G, Crown Castle will benefit and drive revenue from the shift. 
   Crown Castle reports earnings next week on the 20th of October, be on the lookout if they can beat wall street estimates on both the bottom and top line. They are expected to report earnings per share of .77 and revenue of 1.61B in Q3 of 2021. The stock has fallen in recent months, it is currently negative 16.85% in the trailing 90 days and down 10.32% in the trailing 30 days. Its likely we could see a big move up if they post an earnings beat after the stock has fallen, but either way this is one we are looking to hold over the next 5 years as the outlook for mobile data usage is strong and will continue to grow.
 
Disclaimer: Investing involves risk including the potential loss of principal.  Do not buy or sell a stock solely based on this newsletter.  This newsletter does not replace one on one planning we provide.  Consider all fees and risks before making an investment. Crosby Advisory is a licensed insurance advisor.  Insurance products are sold and serviced through Crosby Advisory and Nemec Malinas & Dynes Insurance.