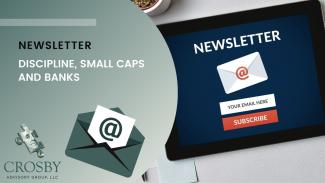 Discipline, small caps and banks
Discipline Not About What is Lost
For many the phrase "Self-Discipline" brings thoughts of purposely missing out on many of the pleasures others get to enjoy. "I wish I could sleep in." "That chocolate cake looks good, but I shouldn't eat it." "I'd have more money to spend if I cut back on how much I save." 
When these statements are said, or even just thought, it causes the body to crave that object or action that we believe we are missing out on even more. Consider shifting your focus on what self-discipline really creates: Freedom.
Those disciplined enough to save 20% of their paycheck free themselves from the stress of living paycheck to paycheck. Those who are disciplined in their nutrition free themselves from a host of diseases linked to obesity. Discipline doesn't take away; it adds freedom in every sense of the word. 
There is a dichotomy that exists between our animalistic desires and our actions. Human beings are unique because we have the ability to suppress animalistic desires, allowing us to pass on a small reward now for the promise of a greater reward in the future. I could spend an extra $100 per week which would allow me to eat out more or purchase stylish clothes. Or if I invested that amount each week and achieved an 8% return, I'd have over $40,000 saved in just 5 years. What is the dichotomy between desires and actions? By living life the hard way, we actually make life easier to enjoy. By living life the easy way, and giving into every animalistic desires, we make life very difficult.  
"Yet knowing how way leads on to way, I doubted if I should ever come back ...I took the one less traveled by, And that has made all the difference." -R. Frost
Value in Small Company Stocks
Stocks of smaller companies, often referred to as small cap stocks, are priced at a historic discount when compared to valuations of large company stocks (large caps). In fact, the last time large cap stocks outpaced small cap stocks by this much, we'd have to go back to the early 2000s. What happened next? Small cap stocks outperformed large cap stocks by 50% from 2003 to 2008. 
Historically small cap stocks are priced higher because they tend to have higher growth rates than mature companies.  If you are interested in learning more, you can check out our recent podcast on small cap stocks here.
Moody's Downgrades 10 U.S. Banks and Places More on Watch
The following banks have been downgraded by U.S. Credit Rating Agency Moody's. Commerce Bancshares, BOK Financial, M&T Bank, Old National Bank, Prosperity Bancshares, Amarillo National Bancorp, Webster Financial Corporation, Fulton Financial Corporation, Pinnacle Financial Partners, and Associated Banc-Corp. Six (6) banks were placed under further review, BNY Mellon, Northern Trust Corporation, State Street Corp, Cullen/Frost Bankers, Truist Financial Corp, U.S. Bancorp. Lastly, 11 banks were given negative outlooks changed from "stable outlook" including PNC, Capital One, Citizens Financial, Fifth Third Bank, Huntington Bank, Regions Financial Corporation, Cadence Bank, F.N.B Corporation, Simmons First National Corporation, Ally Financial, Bank OZK. This comes after Fitch downgrades U.S. sovereign debt to AA+ rating citing the debt ceiling debacle in June.
Moody's cited deteriorating economic outlook as well as banks with large commercial real estate exposure. Banks have been under immense pressure since the FED started raising rates last year. Banks of all sizes are mounting massive unrealized losses in their bond holdings which led to the failure of three (3) of the largest bank failures since 2008. We are closely monitoring the commercial real estate issue that will come to a head as $1.5 Trillion dollars of commercial real estate debt will have to be rolled over into significantly higher rates with property values down over 60-80% in some locations like San Francisco. You can read more about risks in the banking sector and the commercial real estate sector in our most recent Q3 Investment Outlook Report (non-clients can contact us to request a copy). 
One of the reasons that Crosby Advisory Group chose SEI Private Trust Company as one of our custodians because SEI cannot take on the risks associated with a bank. SEI cannot loan, use assets as collateral, co-mingle funds, or trade on margin.
Crosby Advisory Group, LLC specializes in wealth accumulation, asset protection, and business growth. If you have a question, contact one of our experts.
Disclaimer: This newsletter is for informational purposes and does not represent individual investment advice. Crosby Advisory Group, LLC has three branches of services: registered investment advisor, marketing firm, insurance agency. Investing involves risk including the potential loss of principal.