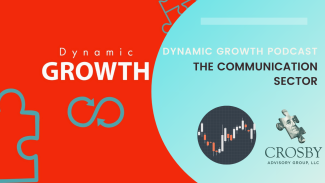 Spotlight #3 – Communications Sector 
For our lucky listeners enjoying sunshine right now – I'm talking to you Florida – make sure you soak up some extra vitamin D for us! As many of us fire up our streaming services and hunker down for snowmageddon, let's take a deeper look at the communications sector! 
Spoiler alert – the podcast today revealed that Derek doesn't have TikTok. Didn't see that coming!
What makes up the communications sector? 
The wide range of capabilities makes this sector somewhat unique. We're talking infrastructure, entertainment, and social media. Think fixed-line, cellular, wireless, high-band, fiber optics, voice, video, phone, text, gaming. 
The Stats
Sector weights (S&P 500) 
Utilities – 2.4% 

Consumer staples – 5.6% 

Communications – 10.8% 
A look back 
It's out-performed the S&P 500 9 of the last 20 years 
Since 2000, we've seen .8 market correlation – higher than other sectors we've looked at 

CAGR of 7.78% since 2005
Who are some of the big communications sector companies? 
The wide range of specializations brings in companies of all ages and sizes. Today we're looking primarily at the top two – Meta Platforms (formerly Facebook) and Alphabet (Google) as they make up about 35% of the sector. Side note – the fact that two companies make up that large of a percent makes this sector both unique and interesting. More to come on that. 
What

does this mean for CAG? 
We've added Vanguard's VOX to our tilt and have Meta Platforms and Alphabet on our watch list. These two companies alone have PEs of 22 and 26 respectively. They are fast growing (fun fact – since 2000 Google has averaged 21% annual growth) and seem well positioned – two things we look for when investing. 
Let the numbers speak for themselves – shall we: 
Meta Platforms – trailing 12 mo reported $112B & a 42% increase YoY 

Alphabet – trailing 12 mo reported $239B & a 39% increase YoY 
Let's not forget about some of the other players in this sector – Walt Disney, Netflix, AT&T, Comcast. If you had to guess where the majority of Walt Disney's earnings are coming from – would you say theme parks or media? In 2020 the company reported $16.5 B for theme parks and media drew a whopping $50 B. My family is in the midst of planning a trip to Disney and I must say my gut reaction was theme parks! In 2020 Netflix reported $24 B and recently got some attention with investments from a couple large shareholders – another one to keep an eye on. Communications giant, AT&T, pulls in $181 B in revenue, while Comcast is sitting at $43 B. 
Don't let gaming off the hook in all this because who doesn't have a teenager that stays up all night playing Fortnite!? Activision Blizzard, Electronic Arts, Take-Two Interactive are all on our radar. 
Like we said – this sector is filled with all shapes and sizes. 
Opinion piece: To buy the sector or to go it alone – that is the question!

 
The communications sector brings the potential for growth and income – two things that cause us to take action. How to do that - well that's the question … 
Derek

would buy the sector and then add individual exposure

Nate

is going solo and building his own collection of fading and raising companies 
Remember: the future tends to favor the brave 
Resources we like: 
Please note: This content is not a direct recommendation for investment. Investing involves risk including the potential loss of principal. Not all investments are suitable for all people. Crosby Advisory Group, LLC is a registered investment advisor in Ohio, Florida, and Texas.