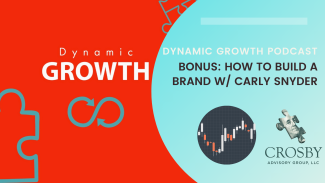 BONUS: How to Build A Brand w/ Carly Snyder
Carly Snyder is the newest team member of Crosby Advisory. She has worked with large corporations to assist them with their marketing and she is joining Dynamic Growth to give advice on building a brand. The first of many episodes with her, we hope you enjoy!
Please note: This content is not a direct recommendation for investment. Investing involves risk including the potential loss of principal. Not all investments are suitable for all people. Crosby Advisory Group, LLC is a registered investment advisor in Ohio, Florida, and Texas.