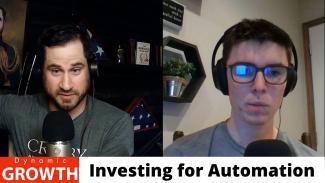 Automation & Artificial Intelligence
One of the biggest issues we face in the coming century is the emergence of Automation and Artificial Intelligence. What do we do about that, what does it mean for the future of work? What does the future of work look like? Can we look at historical examples and try to come to a meaningful conclusion? We debate the implications of covid are and how that relates to unemployment and labor shortages. Will companies choose to purchase capital if the price of labor must increase to outcompete money being received from the government? 
This was a good one because we didn't see eye to eye on some of these topics and had a great conversation. We hope you enjoy this weeks episode
Spotify: https://open.spotify.com/show/4aNCOEE...
Apple Podcast: https://podcasts.apple.com/us/podcast...
Stitcher: https://www.stitcher.com/show/dynamic...
 or wherever you get your podcasts
Follow us on Instagram and Facebook 
Facebook: https://www.facebook.com/Dynamicgrowt...
Instagram: https://www.instagram.com/dynamicgrow...
#Automation #AI #ArtificialIntelligence #invest #investing #Investing #policy​ #debt #investments​ ​ #retirement​ #retirementplanning​ #stocks​ #stockmarket​ #personalfinance​ #financialfreedom​ #finance​ #Savings​ #savingsgoals​ #savingsgoals2021​ #growth​ #grind