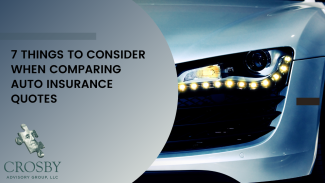 7 Things to Consider When Comparing Auto Insurance Quotes
As a full-service insurance provider, you can imagine how often we field questions about comparing auto policies. Everyone wants the 'best' deal but the trick is understanding what makes a policy better than another one. Of course, price is an important factor when it comes to choosing but making price your only consideration could leave you short on coverage when you need it most.
Not all policies are created equal and here are 7 things to consider when you're comparing your quotes: 
Coverage: before you compare the price of two insurance quotes, always make sure the coverage and limits are the same. Your auto insurance policy will have a wide range of coverage options to choose from. First and foremost, you need to understand your state laws or find yourself an insurance partner you can trust that will advise you. Basic bodily injury and property damage liability coverage is typically required by state law. Additional coverages like collision, comprehensive and uninsured motorist insurance may also be required by your state. If a coverage type is not required by your state, they can be added on to provide added levels of protection. The coverages and the corresponding limit for each will have an impact on your policy premium. 
Options: what else is included with your policy? Sometimes you can uncover benefits such as extra coverage for pets, personal items, and locksmiths at no additional charge to you. And coverage options like roadside service can be added to your policy for a few extra dollars each month.
Deductibles: your deductible is the amount you'll choose to pay out of pocket to fix your car before your insurance coverage starts to pay. Generally, the higher your deductible is, the lower your premium will be. 
Reputation: in the event of an accident, you want to be confident that your claim will be handled quickly and efficiently. It pays to choose an insurance company with a reputation for excellent customer service. 
Service: insurance can be complicated so find a partner you can trust with agents you can count on. In the event of a claim, having personal attention from a professional who's committed to understanding your unique insurance needs is priceless. 
Discounts: it's not uncommon to find discount savings for things like safe driving, car safety equipment, multiple cars, young drivers, and making annual payments. 
Price: after considering the factors above, it's time to compare the price of your coverage. Getting multiple quotes allows you to rest easy knowing the value you receive from an insurer is worth the policy premiums. 
There are so many choices, but you don't need to know everything about auto insurance – that's where we come in. Let us help you navigate this process to ensure you have the best coverage for your needs within your budget. Contact us today!